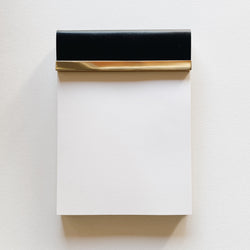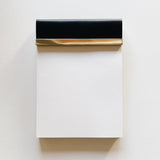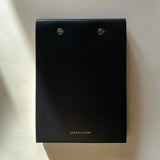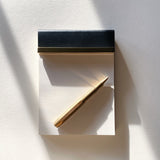 The Notepad No. 01
Our very first leather & brass bound notepad designed to inspire productivity while looking beautiful sitting on your desk, in your bag, or on your countertop. We think it's the perfect companion to jot down notes, random thoughts or to-dos on the go, your grocery list, work tasks, the list is endless.

Leather sourced from Italy, notepads produced in Los Angeles, solid brass hardware crafted in New Jersey, & assembled by hand right here in Santa Barbara — this notepad is composed of 15 individual elements from 9 unique vendors. 

Featuring a sleek design with brass hardware, the leather cover is easily removed to replace with a notepad refill for continued use over the years.


Leather & Brass Bound Notepad

Size: 5.5" x 7.5"
~100 Sheets 
Warm white paper featuring an easy perforated tear
Refills available HERE